Elizabeth Evans
Founder and CEO
Elizabeth founded E2 Homes (Formerly E2 Design and Construction) in early 2017. A business leader and entrepreneur who has called Jacksonville her home for the past 10 years, she has worked as a construction management professional in the residential, commercial, and government sectors, managing over $300 million worth of vertical construction in the last decade. She found her passion for construction while studying civil engineering at West Point. She has worked at every level in the construction field from Superintendent through Director of Construction positions at the State and Regional level for both private and public companies. After working for other firms and continuing to serve in the Florida Army National Guard (Where she currently holds the title of Colonel), Elizabeth decided to combine the two things she liked most out of both careers: leading, mentoring, and developing a team of technical and creative construction management professionals to serve the Jacksonville community. A licensed General and Roofing Contractor, she continues to expand her certifications and licenses, staying on the very cutting edge of construction technology. If you cannot find her on a job site meeting with homeowners or members of her team, you will find her running marathons as a pace-group leader or actively serving on several non-profit boards in leadership roles such as the West Point Society of North Florida where she currently serves as their President.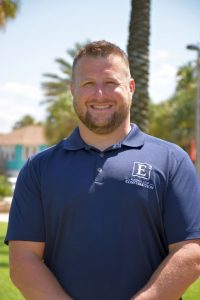 Ryan Carelson
Operations Manager

Ryan works with both our clients and our internal team to see that projects go from the conceptual design to tangible results. Ryan holds a Bachelor of Science in Business Administration with a Minor in Psychology from Birmingham-Southern College and has worked various levels of project management in the construction industry since graduation in 2013. Ryan was a four-year NCAA student-athlete which he credits his skill in multi-tasking and bringing a team-orientated approach to accomplishing goals for both the company and our customers. While Ryan is well versed in the administrative tasks of day-to-day operations that are needed to keep the wheels moving, Ryan is also knowledgeable in Xactimate and is IICRC Water Technician Certified. Outside of the office, Ryan enjoys spending time outdoors with his family, traveling, and watching both professional and college football. Go Cowboys and Roll Tide!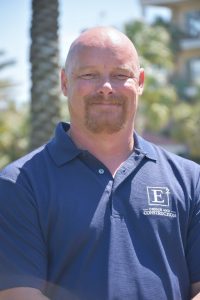 Jason Reisdorf
Senior Roofing Salesman
Jason joins us with an extensive background ranging from beautiful outdoor hardscapes to complex renovations and extensive experience in roof replacements. Jason grew up in Pennsylvania and moved to Morgantown, West Virginia before Settling into Northeast Florida 10 years ago. The first 18 years of his professional life were in the restaurant industry. After "retiring" from the restaurant life and selling his Brewery, he owned a few small construction companies in West Virginia and Florida. He successfully passed all phases of the Florida General Contractor's Exam in 2008 and has worked in sales and project management roles since then. He specializes in casting vision for simple to complex renovations and listening to what is important to his customers. It is his goal everyday to make their dreams a reality.
His other interests include: Jeeps, cycling, soccer, music, family and the great outdoors. He loves animals, flowers and (almost) anything that is purple. His loyalty is second to none and he is eager to help anyone.
Kelsey Dommel
Office Manager
Kelsey works with all members of the company to create a team-oriented environment. She manages the office and works to create an organized space for the whole team to collaborate on projects and create the best experience for clients. Kelsey grew up in Louisville, Kentucky and went to Eastern Kentucky University where she met her husband, Daniel. They are college sweethearts and moved to Jacksonville together after graduation. Kelsey graduated with a bachelor's degree in Apparel Design and Merchandising with a minor in Business. She enjoys spending time with her husband and their dog Pebbles. She also tries to spend as much time back in Kentucky with her family as she can.
Sophie Smiley
Administrative Assistant

Sophie is the frontline for the company. She is the first person our customers speak to. She communicates with customers to collect their information and makes sure the information gets distributed to the appropriate people throughout the company.
Sophie was born and raised in Southwest Florida and moved to Jacksonville in 2015 for college where she attended University of North Florida for Photography. Sophie loves spending time outdoors, especially going to the beach. When she's not spending time at the beach or working, you can find her at home with her two dogs and cat.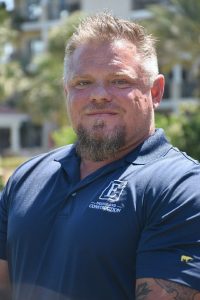 Billy Calloway
Roofing Project Manager

Billy is responsible for overseeing performance and maintaining morale. His strong communication and client service skills makes him an asset to our company. Billy works with our clients and maintains important quality control and subcontractor coordination responsibilities making sure we are achieving on goal targets and maintaining a safe and healthy work environment. His background is with sales and project management.
Billy grew up in Lake City, FL and joined the US Army in 1997. Billy was stationed in Babenhausin, Germany and then in Fort Campbell, KY. Billy's interests include cooking, the outdoors, traveling and he loves to go fishing. Most importantly he spends much of this time with his kids and grandchildren.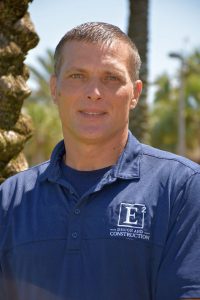 Darren Goffin
Field Technician

Born and raised in North East Florida, Darren has over twenty years of experience in home building and remodeling. For E2 Design and Construction, Darren is truly our 'jack of all trades.' Some projects you will find Darren assisting in framing out an addition while others you may find him perfecting all of the little details to make sure your home is exactly the way you expect it at completion. While it can be difficult at times to avoid material delays or subcontractor availability, Darren bridges that gap and helps keep our projects moving along steadily, greatly reducing any project delays (a HUGE benefit for us & you!). Darren spends some of his free time helping friends and neighbors with their own home projects and if he isn't doing that, you can find Darren outdoors somewhere enjoying his hobbies which include gardening, hiking, and kayaking. Darren is a proud father to one daughter and is a true lover of all animals, mostly for cats and birds though!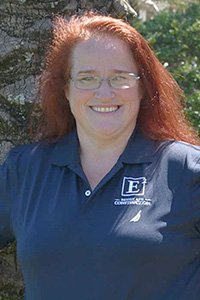 Rue Beane
Estimator

Rue Beane is a Florida Native with a demonstrated history of working within the public and governmental sections of the construction industry. As a licensed Independent Insurance Adjuster, Rue is an expert in the estimating process for insurance claims, advocating for full and complete coverage for our clients as they work through the challenging insurance claim process.
Rue is a graduate of the University of South Florida where she received her BA in Business Management with a double minor in finance and economics. With her passion for green building and sustainability, she led her class's charge for certification by the National Association of Home Builders (NAHB) as Certified Green Professionals. Outside of the insurance and construction industry, Rue has a varied background in restaurant management, math instruction for two Florida school districts, as well as several positions in the energy and green building industries.
If you happen to follow E2 on Instagram or Facebook, you will also notice her other hidden talent as Rue serves as our FAA licensed drone pilot! Rue enjoys time off with family and friends, her fur babies, and spending time on her own steampunk projects. With Rue behind the scenes, our clients know they are in great hands, from scope development through execution.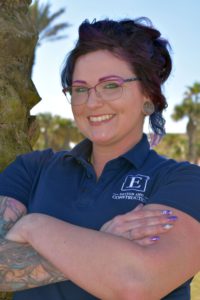 Megan Newbury
Sales Representative

Originally from Chicago, Megan left the windy city to enjoy the sunshine of Florida right after Hurricane Matthew. With a background in the hospitality and beauty industry she decided to learn a new skill set and developed a passion in the restoration industry. Whether it be climbing a roof and inspecting it for damage or assisting homeowners through the dry out process from water damage, Megan has handled claims during Hurricane Matthew, Irma, Francis and Michael. Megan joins us as a sales representative.
Megan's ambitions and goals transfer from the field into her everyday life as you can find her lifting heavy in the gym with goals to one day compete. On the weekends you might catch her working as a part time mermaid. In full character you can find her swimming with her pod at the springs or working at different events thorough out Florida.